I am starting to switch over to what will be my new way of eating. Of course in the beginning it's not going to be so glamorous. After the surgery I'll be eating barely anything as I go through the liquid to soft foods to food stages. I'll also mainly only be eating protein because you can fit barely anything in and you must eat or drink your protein first. That doesn't stop me from collecting recipes and ideas for my maintenance stage where I will be able to eat normal food but always protein first.
Today I thought I'd focus on breakfast. Don't get me wrong I love eggs and bacon, eggs and ham, eggs and steak, eggs and sausage. There's a whole lot of protein there but I cannot just eat that for the rest of my life lol!
I thought today, I'd look for different ways to use eggs for Breakfast that are low carb.
I will say that I only use organic free range eggs. I buy my mine from a local Mennonite. I would buy only organic and free range everything if I could afford it but I can't. However, the eggs are the same price as store bought eggs so I don't feel guilty about it at all. There is a huge difference in taste, color and in my opinion health wise as well. I will have to see if I can get some guests posts on the benefits of free range versus store bought eggs. Also for those that think high cholesterol comes from eating too much cholesterol I will be having some articles soon that say otherwise.
I've searched the internet for stuff that sounds good to me. I will always include the link back to the original poster because I'm sure you will probably find a lot of great recipes on their sites other than just the one I found and I believe credit should always go to the proper person
Just a reminder for those that have had surgery. Don't go by the posted servings when calculating your nutritional values. A lot of us would probably only be able to eat half a serving of some of the recipes so calculate according to how many servings you get out of a particular recipe.
Healthy Spinach Quiche: High Protein, Low Carb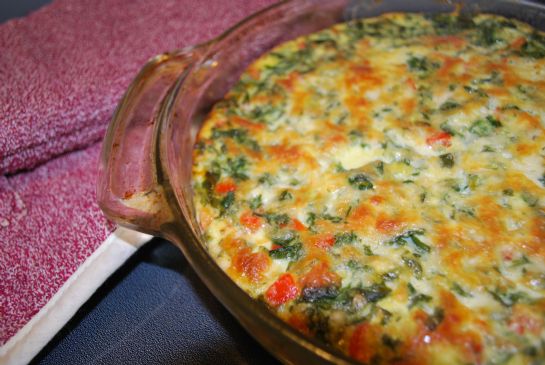 Minutes to Prepare: 7
Minutes to Cook: 60
Number of Servings: 4
Ingredients
2 Cups Baby Spinach
1/2 Cup Sweet Red Pepper, diced
1/4 Cup Green Onion, diced
2 Eggs, cage free, medium brown
2 Servings Egg-beaters with yolk (1/2 cup)
1 Cup Skim Milk (I use almond milk)
1/2 Cup Soy Flour (I use a mix of almond & coconut flour)
1 Cup 1% milk fat cottage cheese
3 Tbsp margarine (I use butter)
1/2 Cup Shredded part skim reduced-fat Mozzarella
Directions
1. Preheat oven to 350. 2. Grease 9 inch x 1 1/2 inch deep pie plate (I used Pam Olive Oil Spray). 3. Boil spinach till slightly wilted then drain.(make sure you get out as much moisture as possible) 4. Mix all ingredients (except shredded Mozzarella) in large mixing bowl using an electric hand mixer. (It will be lumpy). 5. Pour into pie plate and sprinkle with shredded Mozzarella. 6. Bake for 55-60 minutes, till edges are brown. 7. Remove from oven and let stand for 3-4 minutes. Cut into 4 slices and serve.
Serving Size: 1/4 of a 9 inch pie
I imagine most post operatives could get 8 servings from this but it's tasty enough that the rest of the family will love it as well.
California Tomato Martguerita Omelet
Makes 1 serving
Ingredients
3 eggs
2 tbsp water
Pinch of salt and grinding of black pepper
1 tsp butter
1 California Roma Tomato, thinly sliced
1/4 cup coarsely grated mozzarella
1 tbsp finely grated Parmesan 2 tbsp thinly sliced basil leaves.
Directions
In a medium bowl, whisk eggs with water, salt and pepper.
Melt butter in a 9-inch non-stick frying pan over medium.
Pour in egg mixture.
As mixture begins to set around edges, using a spatula, gently push set edges towards centre.
Tilt pan and let uncooked egg mixture run onto pan.
When egg is nearly set, about two minutes, cover half with tomatoes, followed by cheeses then basil.
Fold unfilled side over filling. Then slide on to a plate.
Tomato Bacon and Fresh Herbs Fritta
Ingredients
12 farm fresh eggs
8 to 10 slices of bacon (pasture raised preferred)
3 or 4 garden fresh tomatoes depending on the size (organic is best), sliced very thinly
onion, sliced or diced thinly
fresh basil and oregano leaves to taste
salt and pepper to taste
Instructions
Preheat the oven to 350F. Fry your bacon in a 10" cast iron skillet.
Let the bacon cool slightly and crumble it. Leave the grease in the pan.
Whisk the eggs and the herbs together in a bowl.
If there is too much bacon grease, you can drain some off but leave enough so the eggs don't
stick. Sprinkle the bacon in the pan evenly and pour the egg/herb mixture over it.
Cook on medium heat until almost done.
Add the tomatoes, onion and herbs to the top.
Cook in 350F for about 15-20 minutes or until the top is set.
Remove and serve warm.
Serves 4
Love recipes like this - simple everyday ingredients. This also would probably be more like 8 for some.
Shakshuka
You can find this recipe and so many other great ones here at
Tori Avey
Ingredients
1 tbsp olive oil
1/2 medium brown or white onion, peeled and diced
1 clove garlic, minced
1 medium green or red bell pepper, chopped
4 cups ripe diced tomatoes, or 2 cans (14 oz. each) diced tomatoes
2 tbsp tomato paste
1 tsp chili powder (mild)
1 tsp cumin
1 tsp paprika
Pinch of cayenne pepper (or more to taste-- spicy!)
Pinch of sugar (optional, to taste)
Salt and pepper to taste
5-6 eggs
1/2 tbsp fresh chopped parsley (optional, for garnish)
Directions
Heat a deep, large skillet or sauté pan on medium. Slowly warm olive oil in the pan. Add chopped onion, sauté for a few minutes until the onion begins to soften. Add garlic and continue to sauté till mixture is fragrant.
Add the bell pepper, sauté for 5-7 minutes over medium until softened.
Add tomatoes and tomato paste to pan, stir till blended. Add spices and sugar, stir well, and allow mixture to simmer over medium heat for 5-7 minutes till it starts to reduce. At this point, you can taste the mixture and spice it according to your preferences. Add salt and pepper to taste, more sugar for a sweeter sauce, or more cayenne pepper for a spicier shakshuka (be careful with the cayenne... it is extremely spicy!).
Crack the eggs, one at a time, directly over the tomato mixture, making sure to space them evenly over the sauce. I usually place 4-5 eggs around the outer edge and 1 in the center. The eggs will cook "over easy" style on top of the tomato sauce.
Cover the pan. Allow mixture to simmer for 10-15 minutes, or until the eggs are cooked and the sauce has slightly reduced. Keep an eye on the skillet to make sure that the sauce doesn't reduce too much, which can lead to burning.
Some people prefer their shakshuka eggs more runny. If this is your preference, let the sauce reduce for a few minutes before cracking the eggs on top-- then, cover the pan and cook the eggs to taste.
Garnish with the chopped parsley, if desired.
Prep Time: 10 Minutes
Total Time: 30 Minutes
Servings: 5-6
I think I'll leave you today with one of my favorites that I found at
An Edible Mosaic
. There are some amazing recipes here!
Cauliflower Hash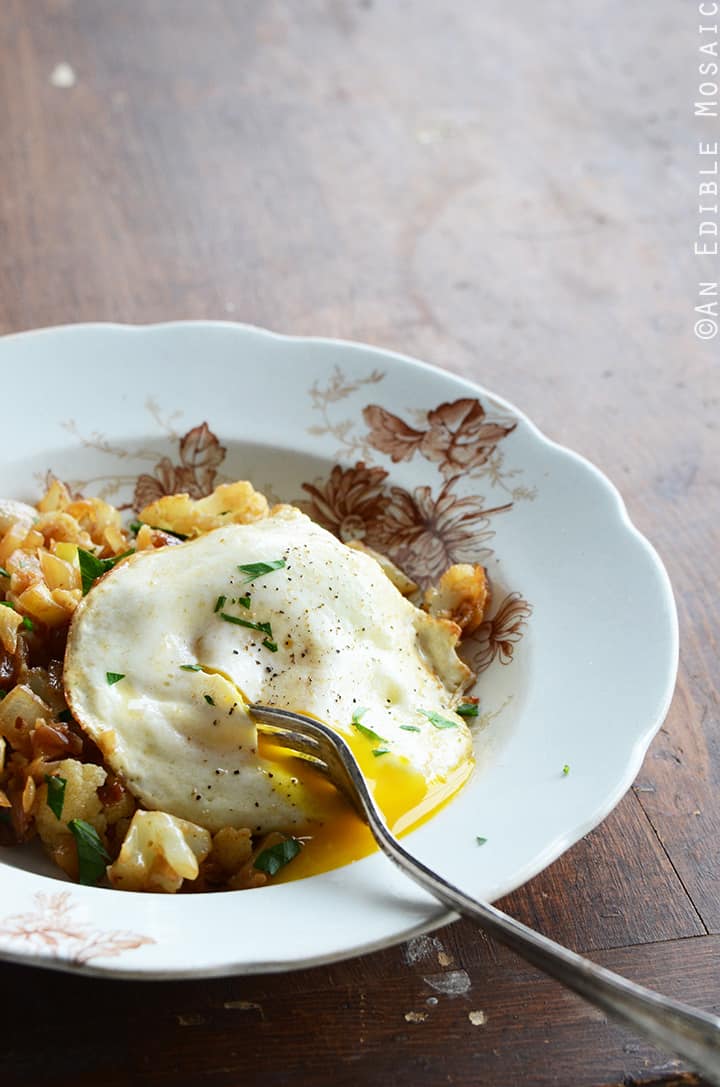 Prep time: 8 mins
Cook time: 12 mins
Total time: 20 mins
Yield: 2 servings
Ingredients
2 tablespoons olive oil
¾ lb (350 g) cauliflower, chopped into small pieces
1 medium onion, diced
¼ teaspoon smoked paprika
¼ teaspoon salt
⅛ teaspoon black pepper
3 tablespoons water
1 large clove garlic, minced
2 teaspoons lemon juice
2 teaspoons minced fresh parsley leaves (for garnish)
Fried eggs, for serving
Instructions
Heat the oil in a large skillet over medium-high heat; add the cauliflower and onion in an even layer and let it cook without stirring until it takes on a little color on the bottom, about 2 to 3 minutes.
Give it a stir, then add the smoked paprika, salt, black pepper, and water. Cover the skillet and cook until the cauliflower is fork-tender but not mushy, and has taken on a golden color, about 3 to 5 minutes.
Turn the heat down to low, add the garlic, and cook 2 minutes, stirring constantly. Stir in the lemon juice and cook until evaporated, about 30 seconds.
Serve with the parsley sprinkled on top, and add a fried egg if you like.